Biography
For many years Ernie Hawkins has been playing concerts, clubs, blues and folk festivals, workshops, colleges, museums, parties, fist fights and millennium celebrations in the United States, Canada, Japan and Europe and at every stop in the road from A Prairie Home Companion to Antone's to the Madrid Jazz Festival. He has played with blues greats such as Son House, Mance Lipscomb, Fred McDowell, Jim Brewer, Rev. Gary Davis and many others.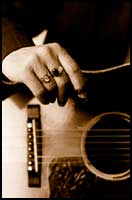 Ernest Leroy Hawkins was born in Pittsburgh PA in 1947. In the '50's he had a paper route, a beagle and a Roy Rodgers harmonica (which he still has somewhere).
He first learned country guitar, mandolin, banjo and bones from a guy named Pete who worked on his Uncle's farm. Pete had come up playing with the Lilly Brothers and had rambled around the country - taking a 30-year detour down whisky lane that landed him in a cabin on the farm as property caretaker...and becoming a primary musical mentor to Ernie.

Ernie was already playing blues as a teenager when he heard a fellow passing through town play Gary Davis' "Let Us Get Together". He was hooked then and forever on country blues and ragtime guitar...and players like Davis, Blind Willie McTell, Blind Blake, Willie Johnson, Skip James, John Hurt, Leadbelly...

Right after high school, Ernie moved to New York City with only one purpose - to track down and study with Rev. Gary Davis. In '69 he moved back home, enrolled in the University of Pittsburgh and earned a degree in philosophy. During this time, Ernie played with Niles Jones, a blues player living in the city and "rediscovered" in the '90's as Guitar Gabriel.

In 1973 Ernie moved to Dallas for graduate school and earned a Ph.D. in phenomenological psychology. Again he managed to find the blues scene and hooked up with players all over the southwest - learning some Lemon Jefferson, Funny Papa Smith, Henry Thomas and Lightnin' Hopkins. So, with Ph.D. in hand, Ernie wandered back into music.

In the early '80's he recorded his first solo album of ragtime guitar," Ragtime Signatures". His second CD "Blues Advice" was dedicated to the memory of his teacher, Reverend Gary Davis on the occasion of the centennial of his birth. The CD includes three songs taught to Ernie by Davis: "Penitentiary Blues", "Florida Blues" and "Will There Be Stars in My Crown" that have never been previously recorded. Ernie's third CD "Bluesified" regularly plays in the preemie and chemo units of a Pittsburgh hospital where it is considered an integral part of the healing process. "Mean Little Poodle" was Editor's Choice in Acoustic Guitar magazine. Ernie's latest CD "Rags & Bones" has been declared by many to be his best.
For ten years he played electric guitar with the Blue Bombers, one of Pittsburgh's favorite R&B bands.
Instructional videos on Lightnin' Hopkins, Blind Willie McTell, Mance Lipscomb, Rev. Gary Davis and guitar theory are available for purchase from this website. Ernie has taught at most of the major guitar camps in the world.

Ernie has been featured in SingOUT!, Fingerstyle Guitar, Dirty Linen, Acoustic Guitar, Blues Revue and Vintage Guitar magazines. He has appeared on "A Prairie Home Companion", "Mountain Stage" , "Woodsongs Old-Time Radio Hour" and XM radio. Ernie appears on Maria Muldaur's Grammy and Handy nominated and Indie Award winning album "Richland Woman Blues" and was the guitarist for the national support tour.

"Ernie Hawkins is an important link in the unbroken chain of blues and gospel artists. His guitaristry and love of the style is incomparable. From the Rev. Gary Davis into the future with his own style Ernie is one of the special ones!" Jorma Kaukonen